After her carrier as a color expert trainer at Sephora, she has launched her own brand "Scandalous Cosmetics" and done demonstration sales by herself.
Her actual performance became popular that they were flooded with orders from major cosmetics companies and other multi brand stores across the US.

After her first success, she was scouted by Sharon Gault who is known as a legendary make-up artist, and she started to study under Sharon for a while.
Currently, she is working with a lot of celebrities as her customers and been active as a celebrity make-up artist.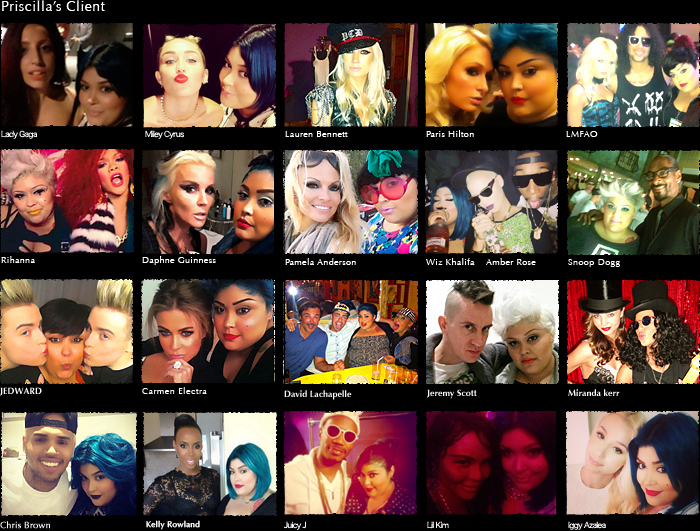 Mila Kunis , Kimberly Cole , Dr. Dre , Angela Lindvall , Kristin Cavallari




Sharon Gault is well-known as an iconic figure of makeup artist; she even worked for the greatest artist, Michael Jackson, Madonna and dozens of celebrities. Of these, the most famous facture is the makeup from the photograph in the album "Like a virgin" by Madonna.
The relationship between Priscilla and Sharon has started when Priscilla was working at Shephora, Sharon got interested in Priscilla's creativeness and her high skill of makeup.
Priscilla was soon won the confidence from Sharon, and started to handle all the celebrities who Sharon has worked for.

Priscilla has established her credibility not just from the big name artists like Paris Hilton and Lady GAGA, but also from Sharon.